Get to know Acadia recruit Remy Giftopoulos
Junior A hockey: Ancaster's Giftopoulos has added good feet to great hands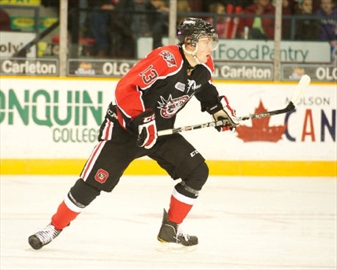 Soft hands and great feet
IceLevel.com
This year — with the Windsor Spitfires where he was traded last season — Ancaster's Remy Giftopoulos, pictured, is a point-a-game guy.
Compliment someone on how good their hands are and those within earshot will almost certainly cock their eyebrow and wonder what the heck you're talking about. Unless, of course, you're speaking to someone who's a massage therapist, a doctor delivering babies or someone working in the bomb-disposal business, in which it makes perfect sense.
Or a hockey player.
Good hands have certainly been a bonus for Remy Giftopoulos. His talented mitts have always allowed him to score. Even as a small boy playing minor hockey, he had the gift.
His ability to make some magic with a stick and a puck landed the Ancaster native in the Ontario Hockey League as a 16-year-old with big dreams and lofty expectations. Which is when reality hit hard. At that level, hands are secondary. Speed is king.
"I've been told one of my weaker points was my skating," the 20-year-old says. "I definitely realized it when I came to the next level."
In order to perform magic with the puck, you have to be able to get the puck. Which comes from wheels. As a guy who never took powerskating lessons growing up and who'd developed some bad habits on his blades, it was a splash of cold water in the face.
His first year playing with some regularity in the OHL, the Bishop Tonnos grad collected just three points. Sure, he was spending a good amount of time concentrating on the defensive side of the game to make himself a more-rounded player. But you still want to be productive around the other team's net. Especially when that's always been your thing.
So Giftopoulos — the son of Mike, a Vanier Cup winner with Ottawa, nephew of Pete, a star with Penn State and the Tiger-Cats, and a relative of longtime NHLer Steve Staios — started working at it. Each summer, he'd come home from Ottawa where he'd been playing with the 67s and skate with an instructor. He changed his stride. He refined his technique. He took feedback no matter how blunt.
"I think it was hard to hear," he says.
If the criticism was tough, the adjustment was truly frustrating. Instead of simply getting on the ice and playing, he found himself having to think about his technique as he was skating. Rather than concentrating solely on what he was going to do with the puck, he had to concentrate on making sure he was sticking to what he was working on and erasing the muscle memory that had been burned into him for most of his life.
Great athletes don't really think about what they're doing, they just do it. This was the opposite of that.
But a funny thing happened as he did. In his second year in the league, the 6-foot-2, 205-pound forward more than doubled his points per game. The year after, he more than doubled it again, to better than half a point per game.
This year — with the Windsor Spitfires where he was traded last season — he's a point-a-game guy. In fact, the only players ahead of him on the team scoring list are two high National Hockey League draft picks (Kerby Rychel and Brady Vail) and a guy who will be one in the spring (Josh Ho-Sang). Suddenly, he's earning time on the power play and in other key situations.
This vastly improved mobility has also allowed him to improve his defensive-zone play, which has helped bump his plus-minus from a minus-32 last year to a plus-9 so far this season.
Things improved so much that, while he went undrafted by any NHL team, he was invited to try out with the New Jersey Devils in the fall. It didn't lead to a contract. Not yet, anyway. But down the road? He thinks it's a reasonable target.
"I felt like I belonged out there," he says.
Mostly because he can do it all now. He can score and look after his own end. He can create offence but he can also fly. His hard work has made his game well-rounded.
His hands? They're just part of the story now.
905-526-2440 | @radleyatthespec
Spectator columnist Scott Radley hosts The Sports Lounge weeknights at 9 on 900CHML.